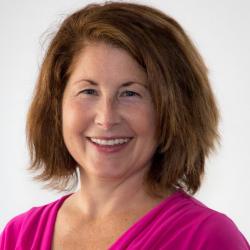 Program Manager and Senior Training Specialist
Educator. Advocate. Mindfulness Instructor.
Monica has devoted her career to working with children and families as well as the organizations that support them. At HFP she incorporates creativity into her training sessions, along with a strong focus on wellness-based activities (like yoga) and mindfulness.
Since 2007, Monica has provided training and program management services for HFP. She touches on everything from site logistics and evaluation to leading training sessions that promote trauma-informed change within the work environment. Monica is dedicated to integrating brain science into her innovative on-site training sessions. Monica is also a mindfulness-based stress reduction (MBSR) facilitator and a certified yoga teacher. She seeks ways to integrate these reflective practices in her work with organizations to promote trauma responsive environments that build staff and client resilience.
When she's not assisting Philadelphia organizations to become more trauma-informed, Monica enjoys cooking and baking, being outside and making art.
Fun Fact:
Monica has worked in both urban and rural areas, from Philadelphia to Window Rock, Arizona within the Navajo Nation. She has also worked internationally in Uganda, where she collaborated with teachers to raise the standards of educational practice to make education work for all students.
Training Expertise:
Organizational Skills
Reflective Practice and Supervision
Brain Development
Management Practices
Trauma Responsive, Mindfulness-Based Training
Promotion of Staff and Client Resilience
Child Development
Contact Monica: