The Health Federation of Philadelphia, founding member and parent organization of Multiplying Connections, is a winner of the 5th Annual Peoples' Choice Best Nonprofit to Work For Awards presented by Opportunity Knocks.  The employee essay nominating HFP reflects the organization's commitment to being trauma informed.
National nominations were held November 8, 2011 through December 31, 2011 and individuals were told to submit a brief essay on why they co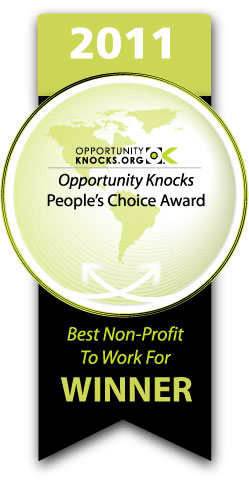 nsider their organization to be a great place to work. Here are exceprts of the essay written by Ilana Berman, a recently hired Project Coordinator for a new program of the Health Federation called the Enhanced Home Visitation Project which is integrating trauma-focused intervention in an existing home based Early Head Start Program:
The Health Federation of Philadelphia (HFP) is the most supportive organization I have ever worked for. My favorite part is that supervisors promote staff well-being and provide opportunities for self-care activities as part of the work week, including yoga and mindfulness groups. Especially considering the vulnerable populations we serve, the supervisors truly encourage each staff member to take care of herself.  Staff safety is also of utmost importance...Adhering to the "Sanctuary Model," we begin every meeting with a "Community Meeting," ...the Team Support meetings to review cases focus on families' strengths and celebrations.
Details about the Awards can be found at http://content.opportunityknocks.org/best-nonprofit-to-work-for/
A total of fifteen (15) winners were awarded nationwide based on three categories of operating budget size.
Opportunity Knocks is the national nonprofit job board, HR resource and career development website exclusively focused on the nonprofit community.